Insurance Class Online Preview
Exam Advantage Online Class Preview
Insurance classes and agent training programs (available online or via textbook) from CPMI offer multiple learning formats to help walk students through the training material in the way that is best suited to their learning style.
By taking the insurance class out of the classroom and bringing it to the comfort of your home or office, CPMI's state approved licensing and continuing ed programs help our students learn better, at their own pace. All online courses include:
Online textbooks
Virtual classroom (video seminars)
Learning tests, practice tests, and our guarantee exam!
Three Test Modes: Learning Tests, Practice Tests, and our Guarantee Exam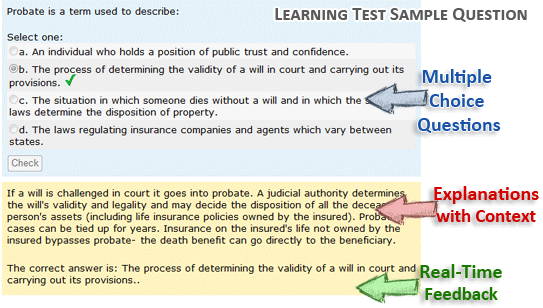 Text
In learning test mode (image above), students are able to get immediate feedback on each question that they answer, including a detailed explanation from the text as to which answer was correct and the reason for that.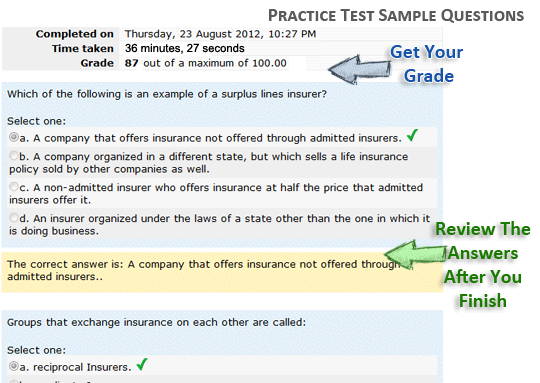 A practice test mode (image above) is also available, and is designed to follow the questions and format of the state licensing examination. Practice tests can be taken after the course has been completed and the material thoroughly reviewed already, and can be used as a better indicator of how prepared the student might be for their state exam.
Additionally, each pre-licensing student is also able to take our guarantee examination. The guarantee exam is similar in format and difficulty to the practice tests, and students who pass the guarantee exam with an 85% or higher qualify for our money-back-guarantee if they take their state exam within 7 days and do not pass.
In-Depth Class Textbooks On or Offline
Our insurance classes have been prepared by life-long insurance industry professionals, with decades of experience as agents, managers, and educators.
The following screenshot is from our Life and Health Insurance License exam preparation class, and shows a student tracking his progress through the class introduction.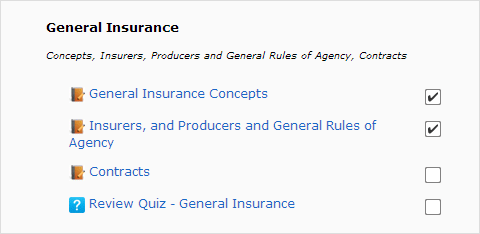 Utilize our Integrated Videos or Watch the Entire Seminar on Video
Students who choose to take our online course will notice that many sections have short video presentations associated with the textbook content and review questions for that section.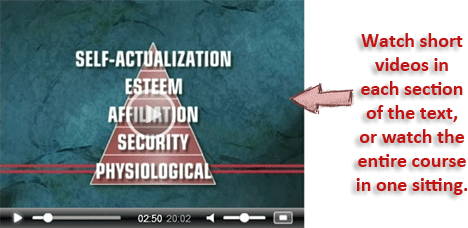 Alternately, students who prefer to watch the entire video course as one will find several longer video files located at the bottom of each online pre-licensing course. The video presentations cover the same material as the textbook portions.
A Few Important Things to Note
Learn at your own speed with our take-home textbooks or online insurance class programs.
Take the classroom home with you with our classroom simulation videos.
Practice for your insurance exam with our Exam Advantage test simulator, with a money back guarantee (pre-licensing only).
Practicing for your Licensing Examination
To help our pre-licensing students get a better handle on the information that they will be quizzed on during the insurance license exam, our pre-licensing insurance class includes our unique Exam Advantage test simulator, with modes ranging from learning tests (with answers and explanations after every question) to practice tests (which allow you to go through an entire graded exam).
We are a leading nationwide provider of insurance licensing and insurance continuing education, with self-study insurance classes to fit every need. Take a tour of our online program.
Becoming Licensed
Individuals considering becoming licensed to provide insurance should look into one of our many insurance licensing courses.
Get Continuing Education:
What Your Colleagues Are Saying
"Thanks to your program and lots of studying I passed my Life & Health exams. Tell everyone to follow the instructions & study like your company advises. It sure seems to work."
"Your Exam Advantage questions are really good preparation…You really helped me know what I was going to be up against."
"Using your company has been a wonderful experience. Working with Exam Advantage has been one of the least stressful parts of my entire job! Thank you!"
"I want to thank you for your tips. I did exactly as you advised with the reading of the manual, online study & breaks, and no worrying I passed the test! Thank you!"
Your program really helped me focus on the material that had been difficult for me. I passed this time! Thank you!